Why PolySkill Robotic Designers Program?
Industry 4.0 will lead to a machine dominated world. A world with intelligent machines and things. This world would be an encompassment of AI, IoT, Cloud, and CyberSecure controlled Edge Machines and Things that would ponder among Humans to live in this world.
One of the important edge machines would be the biped humanoids which could be deployed for various services. And the more exciting humanoids would be the human-like biped machines emulating themselves with thorough intelligence outperforming humans.
This program would provide a multidisciplinary foundation to learners who would want to be more a polyglot domain stack engineer capable of speaking on all Engineering domains and their interfaces. All of these poly skills are imbibed through an end to end real-time biped humanoid making project.
What does PRD program offer?
Mathematics and its Application in real time Designs
Material Selection
Applied Mechanics
Kinematics
Miniature Electrical Machines
Power Electronics
Automation
Embedded Programming
Artificial Intelligence
Cloud and IOT Basics
Why should you learn PRD?
You will evolve into a PolySkilled Full Stack Multidisciplinary Engineer. This breed of engineers would be a very rare find in markets.
You will be the most in-demand and highly paid engineer in the industry 4.0 era which is just a couple of years away.
You will evolve into leaders of the industry 4.0 corporate world because all top industries would need personalities who are PolySkilled in nature to drive their businesses sensibly. So don't miss this rare opportunity. Just grab it.
PRD program is being launched after 1 year of complete investigation into biped humanoid designs and it's implementations.
It's not just videos that you would learn from but live and interactive sessions from expert mentors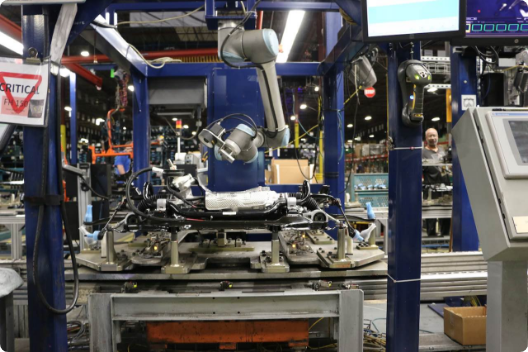 E-Box Mechanical Skilling Programs - The Future of India's Industry 4.0 Journey
It certainly is an understatement to exclaim the current state of affairs pertaining to Mechanical Engineering as preposterous! Can you believe it! Mechanical Engineering branch is the least opted branch during counseling this year (2020). How does it augur for India when the world is moving towards industry 4.0? The future is all about super intelligent machines.
Read More
A - Z, You name the company and You will find our alumni.
We have successfully moulded over 10 lakh students from 100+ colleges and universities and we have a very strong alumni network across the globe
What do our Tutors and Learners Say about E-Box ?
I love the way E- Box teaches topics in such detail. The practical examples along with the Practice quizzes makes me skilled in each
Harihara Budra P, XII std