Spring Boot Bootcamp
Spring Boot is a module that adds the RAD (Rapid Application Development) feature to the Spring framework, allowing quick creation of production-grade Spring-based Applications that can be easily run. While Spring is loved by web developers because of its ease of use and the choices it offers, it still requires a significant amount of manual configuration.
New batches starts on every Monday and Thursday
About the Course
Attending this training program makes you a master in this subject that mainly includes the basics of Spring boot framework, microservices, Spring coure and other features. Our Spring boot Online Training module will provide you a way to earn Spring boot Certification. Spring Boot increases the productivity of Spring, and accelerates application development by providing default configuration for most features without taking away your ability to change the behaviour if you need to. You can get started with Spring Boot's preconfigured features and use Spring's libraries to create apps with quicker time-to-market.

This hands-on course on Spring Boot is led by expert tutors who will hand hold you through practical sessions and full-scale industrial projects where you will learn to build Java applications with confidence. On completion, you will have a solid foundation to enable you to create enterprise-ready applications.
Select your Batch
10:00 AM -  12:00 PM

Starts on  Oct 19,  2020

Mon-Sat

2 Months
Enroll Now
Curriculum
Learn the new features of Java 8
Introduction to web application fundamentals
Introduction to the concepts of unit testing
Usage of JUnit for unit and integrating testing
Introduction to the basics of Spring framework
Learn Spring Core basics, IoC and dependency injections
Introduction to Spring boot basics, component scan
Using Spring Boot Starters, initialize a project
Leverage the auto configuration features of Spring Boot to enable JDBC setup and initialization
Create simplified backing-store solutions using Spring Data and JPA
Build a MVC application using Spring Boot, embedded Web Server
Learn to build a RESTful Web application using Spring
Why Learn Spring Boot?
1

Spring Boot is adopted by 55% of Fortune 500 companies

2

The average pay for a Spring Boot developer is $119,986 per year - PayScale.com

3

The demand for trained Spring Boot professionals is rapidly increasing compared to previous years in the market

4

Monolithic applications are redesigned as Micro services and spring boot framework is used as the middle tier

5

Most of the enterprise applications uses Spring Framework instead of Java Enterprise Edition due to light weight and rapid application development
E-Box Differentiators
Hands-on practice execises
Placement Assistance / Referrals
Capstone project (which is a part of real-time project)
Mentors are hardcore developers
Internships for meritorious and performing scholars
Well defined curriculum aligning towards industry expectations
Course Completion certificate with a longitudinal digital profile
Immediate Doubt clearance during business hours (8 to 8 on Monday to Saturday)
Speak with a mentor before signing up?
We are available to help you clear your queries regarding this Bootcamp. Go ahead, get technical advice from a mentor.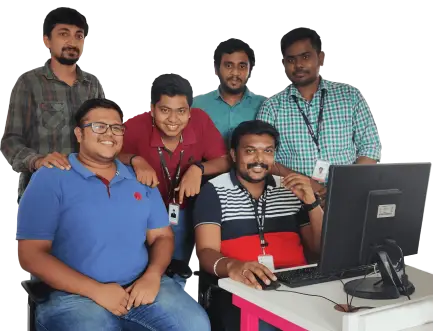 Capstone Project
Build a neat HRMS application that pulls all your new knowledge together.
Frequently Asked Questions
Spring makes Java development easier, Spring Boot makes Java Application development easier using Spring Framework by taking out all pains related to dependency management, configuration, and bean declaration, etc. The average pay for a Spring Boot developer is $119,986 per year - PayScale.com.

It seriously makes the Java development fun, particularly web development ridiculously easy by providing features like starter dependency, auto-configuration, Spring Boot CLI, Spring Initializer, and Spring Boot Actuator, but, the best thing you would love about Spring Boot is how it allows you to run your Java application. Can you guess? Bundle your application as a jar and without a need of any application server you can run directly like a java application.
Throughout this course, you'll:
Learn the basics of Java programming and OOPs concepts
New features introduced in Java 8
Web application fundamentals and DBMS
Build scalable, high-performance applications while reducing development time
Leverage Spring IOC to implement transaction-aware, flexible business objects
Store and retrieve data objects
Springboot Capstone project
Yes! Upon passing this course, you will receive a signed certificate of completion. Thousands of E-Box alumni use their course certificate to demonstrate skills to employers and their LinkedIn networks. E-Box Springboot Bootcamp is well-regarded by many top employers, who contribute to our curriculum and use our tech programmes to train their own teams.
Incoming students/woking professionals should have a familiarity with atleast one programming language (preferably Java) and Object oriented paradigm.

Our Admissions team can discuss your background and learning goals to advise if this course is a good fit for you.
Our instructors are front-end web development experts. They combine in-depth knowledge as practitioners with a passion for nurturing the next generation of talent.
Full payment is due at time of registration. Accepted payment methods include:
Credit cards (and third party) or e-checks
Debit cards and internet banking
PayTM, Airtel Money
UPI