ReactJS Bootcamp
ReactJS is a Javascript library, developed in 2013 by Jordan Walke of Facebook. ReactJS is both very popular (it is the 5th most starred JS library on GitHub) and used on major sites including Facebook, Instagram, Netflix, Amazon, AirBNB and many more. You will love the flexibility of using ReactJS with your favorite web technologies and this program will take you from the fundamentals all the way up to building full apps with custom styling.
New batches starts on every Monday and Thursday
About the Course
ReactJS is one of the most popular front-end JavaScript library in the field of web development. It is fast, scalable, flexible, powerful, and is backed by Facebook. ReactJS works as the 'view' in Model View Controller (MVC) programming and reduces boilerplate language through declarative code.

This course explores Javascript based front-end application development, using ReactJS library. This course will use JavaScript ES6 for developing ReactJS application. You will also get an introduction to use Bootstrap 4-based responsive UI design. You will be introduced to various aspects of ReactJS components, lifecycle, class based components, state & props, hooks. You will gain knowledge on navigating across pages using React Router and its use in developing single-page applications. You will start designing controlled forms and use Formik, YUP library for easy and custom validation. You will also get a brief overview about Flux architecture and Redux. You will start to use Fetch & Axios for client-server communication and the use of REST API on the server side.
Select your Batch
10:00 AM -  12:30 PM

Starts on  Oct 19,  2020

Mon-Sat

2 Months
Enroll Now
06:30 PM -  09:00 PM

Starts on  Oct 26,  2020

Mon-Sat

2 Months
Enroll Now
10:00 AM -  12:30 PM

Starts on  Nov 2,  2020

Mon-Sat

2 Months
Enroll Now
Curriculum
A Quick Dive into HTML / CSS / Vanilla Javascript
Introduction to Bootstrap & Responsive Page Designing
Understand Node, NPM, Babel, Webpack & SPA
Overview of ES6 Javascript enhancements
Understand to various aspects of ReactJS components, JSX, Component Lifecycle
Learn about Formik for form development and validation, i18n plugins for internationalization
React router and its use in developing single-page applications
Various Client Side storage alternatives like Cookies, Local Storage, Session Storage and encryption approaches
Application Security using Cookies & JWT
Practice Context API & Redux
Use Fetch & Axios for client-server communication and the use of REST API on the server side
Introduction to ReactJS Testing frameworks like JEST
Introduction to ReactJS Hooks
Why Learn ReactJs?
1

2

Used on major sites like

3

60% of JS applications use ReactJS.

4

An extension of ReactJS is React Native used extensively in Mobile App Development.

5

Average Salary package of 6 L for a fresher
E-Box Differentiators
Hands-on practice execises
Placement Assistance / Referrals
Capstone project (which is a part of real-time project)
Mentors are hardcore developers
Internships for meritorious and performing scholars
Well defined curriculum aligning towards industry expectations
Course Completion certificate with a longitudinal digital profile
Immediate Doubt clearance during business hours (8 to 8 on Monday to Saturday)
Speak with a mentor before signing up?
We are available to help you clear your queries regarding this Bootcamp. Go ahead, get technical advice from a mentor.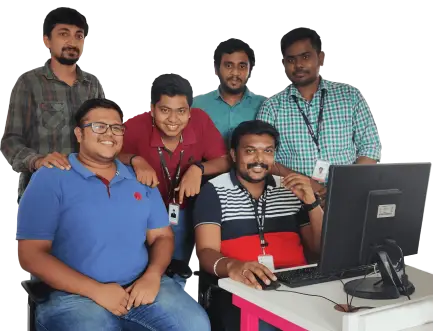 Big Picture
A big step towards mastering one of most used frontend frameworks for web
Lays the foundation to easily adopt to a mobile app framework like React-Native
Build SPAs (Single Page Applications), PWA (Progressive Webapps), Mobile Apps
Applications which are responsive and scalable
Capstone Project
Build a ReactJS application that pulls all your new knowledge together.
Frequently Asked Questions
If you're in search of programming skills to differentiate yourself within the front-end development crowd, ReactJS knowledge is the place to start. According to Stack Overflow's annual developer survey, this JavaScript library is the one 'most developers want to work with if they don't already.' Employers are in search of talent that can leverage ReactJS's ability to handle constantly changing data inputs.
Throughout this course, you'll:
Explore the essentials of programming with ReactJS, the JavaScript library, including components, JSX, props, and state.
Push your knowledge to the next level by learning not only how to create ReactJS pplications, but how and why they work.
Build multi-page, interactive web applications using the popular ReactJS Router package.
Create a scalable, maintainable web application.
Call upon an application programming interface (API) in a ReactJS application.
Host a ReactJS application on Heroku to share with the world.
Yes! Upon passing this course, you will receive a signed certificate of completion. Thousands of E-Box alumni use their course certificate to demonstrate skills to employers and their LinkedIn networks. E-Box ReactJS Bootcamp is well-regarded by many top employers, who contribute to our curriculum and use our tech programmes to train their own teams.
Incoming students/woking professionals should have a familiarity with HTML and the Document Object Model (DOM), along with a working knowledge of JavaScript programming and functions, objects, arrays, and classes.

Our Admissions team can discuss your background and learning goals to advise if this course is a good fit for you.
Our instructors are front-end web development experts. They combine in-depth knowledge as practitioners with a passion for nurturing the next generation of talent.
Full payment is due at time of registration. Accepted payment methods include:
Credit cards (and third party) or e-checks
Debit cards and internet banking
PayTM, Airtel Money
UPI