Blog / The Future of India's Industry 4.0 Journey
E-Box Mechanical Skilling Programs - The Future of India's Industry 4.0 Journey
It certainly is an understatement to exclaim the current state of affairs pertaining to Mechanical Engineering as preposterous! Can you believe it! Mechanical Engineering branch is the least opted branch during counseling this year (2020). How does it augur for India when the world is moving towards industry 4.0? The future is all about super intelligent machines.
This is a clear sign of lack of foresight and as a nation we could be left behind if we are unable to harness the leadership position we achieved in IT. As a technologically advance nation, we are aware that the future belongs to machines. They will be running 24X7 malls; they will be policing the streets, you will see them in battle fronts, intelligent robots will be in industries understanding demand supply dynamics, producing, pricing and taking important business decisions. Robots would also stay in control of logistics. They would simply be about everywhere.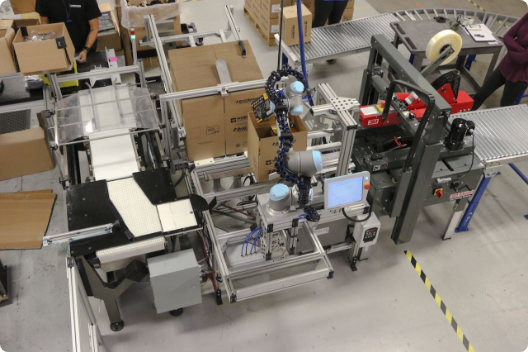 The entire packaging cycle, from erecting the box, placing the product into box, followed by pushing it through the tape sealer.
When the future is so vivid, we don't have takers to Mechanical Engineering? We need bright minds to take up designing, modeling, building and analyzing these machines. This has to be done at war footing. Where is the academia? Where is the intelligentsia? They would be failing us as a society if a course correction is not forced.
Skill development institutions and technical universities should be on the same page with the planning commission for technology and innovation. One wonders why they did not intervene before / during the course of counseling to ensure our future is taken care of. We need an integrated approach; the students should have been addressed by various ministries such as Education, Industries and also Finance. There is a need for the students to take informed decisions that has an impact on the development of our nation.
It is a social responsibility to educate our children to go beyond getting married and settling down with kids, home and a car. They need to understand their responsibilities and their potential to make a difference globally. The Government, Universities, Academicians and Industrialists have a responsibility towards aligning the future needs with the evolving workforce.
The herd mentality in choosing streams of study has to change and we need to arrive at a fine balance of skill-sets suitable for industry 4.0. Our nation needs to be equipped with knowledge in all branches of Engineering. Future India must be Multi-skilled, Multi-disciplinary with Polyglot Engineers who can interpret, and speak all domains of Engineering, and their interfaces. We therefore, must not lose out on Mechanical Engineers who are very important for strengthening this country's core engineering needs.
Therefore, E-Box has researched and comprehended the skill needs of Mechanical Engineers for industry 4.0 and beyond. E-Box has done a study in mechanical sciences for over a decade to evolve three concrete programs catering to industry 4.0. They are
All these programs would impart Creativity, Design, Analysis Skills, Modeling Skills, Tools Skills and Manufacturing Skills into a Mechanical Engineering student. It isn't important which college a student goes to as long as the student learns these three micro degree programs. Mechanical engineers with such skills will be high demand engineers of industry 4.0 world. Now let's be serious about this initiative, and get as many Mechanical Students to enroll into these programs not only for placements, but to strengthen our country so that we are future ready.
Jai Hind!
Talk to an Expert Now
A few Details about Yourself and our Experts will contact you